Bringing a whole new dimension to digital finance with its split account feature, Ozan SuperApp is here again with unique surprises! 
All you need to do when looking to split your spending is to use Ozan SuperApp's split account service. 
What is the split account feature and how to use it? Here are all the answers you are looking for and everything about Ozan SuperApp's new service allows you to use digital finance in its most functional form!
How to Use Ozan SuperApp Split Account Feature?
Offering both financial services and features to make your life easier, Ozan SuperApp has created a brand-new usage area with its split account feature! You can now split your spending with your friends and send them a request after you've paid so that they can share in the bill. 
Splitting any account, a common need especially among students and employees has always been a burden due to various procedures. Instead, you can use the split feature with friends you want to share spending with to make payments together. 
When looking for a place to hang out or go shopping with a group of friends or your favorite buddy, you've probably paid the bill in one go. Even if your friend is not available at the time, he or she will later step forward for a different expense, and sometimes the accounts get mixed up. While the question of who pays the bill is being debated, the next person's turn is forgotten. Now you don't have to go through this hassle anymore, Ozan SuperApp comes to your rescue when you pay the full amount!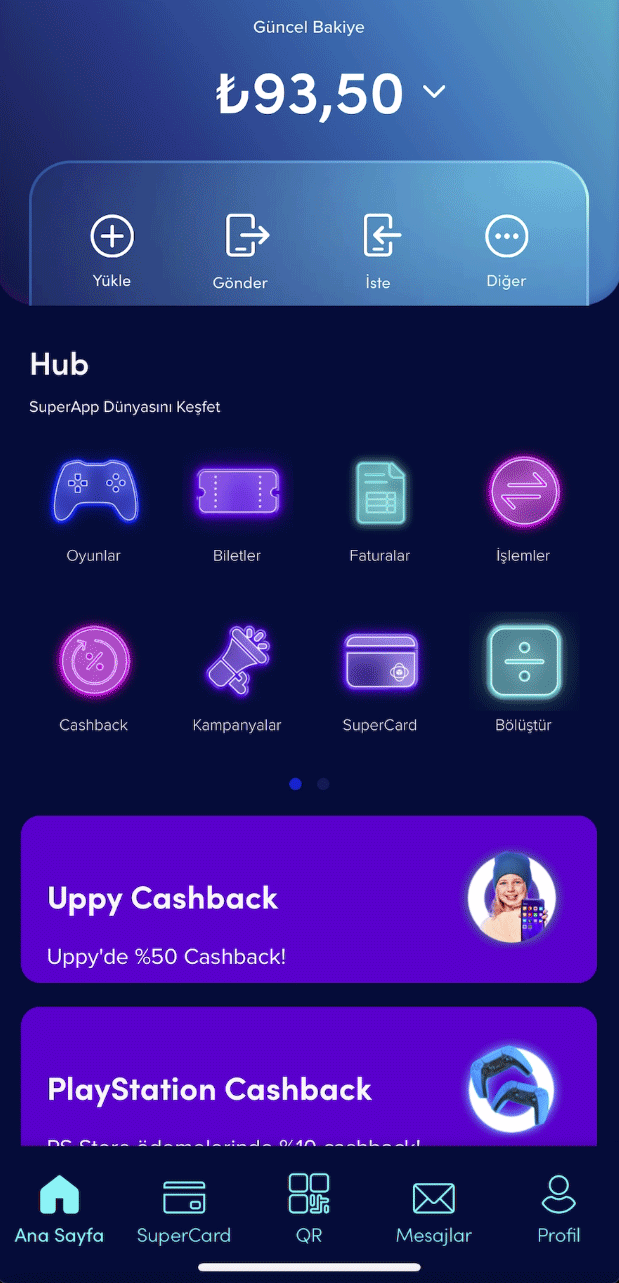 When you use your Ozan account for payments, all you need to do is to split the account by following the steps below: 
Log in to your Ozan SuperApp account. 

Click on the "

Split

" feature in the menu. 

Select the friend you want to share your spending with from the contacts. 

Send the request to split the account to the relevant account. 
The split account service allows you and your friends to share the payments made for you and your friends in just a few minutes. You can share the payments you make with your Ozan account with friends on your list anywhere. 
Moreover, you can earn cashback by making the expenses from your own account, and then you can double your savings by including your friend in the payment!
Can I Cancel the Account Split Request?
The split account feature is one of the newest payment functions of Ozan SuperApp! You can pay your joint expenses from a single account, eliminating the confusion, and then easily split the bill or cancel the transaction through the app! 
If your request is not accepted when using the Ozan SuperApp after trying to initiate account splitting, you can view these requests in the "Outgoing Requests" section. 
If you want to cancel, you can use the "Outgoing Requests" menu and withdraw the split request.
How Many People Can I Split an Account with?
It is as much a habit among friends to split the bill as it is to share memories! When it comes to organizing your shared bills, all you need to do is use the split service of the Ozan SuperApp application. 
When a payment is made, you can use the tabs in the menu to split it between you and your friends, and you can send a request up to 15 friends to split the account. 
Can I Use the Split Account Feature with Someone who is not on Ozan SuperApp?
Having an Ozan SuperApp account means being privileged in digital finance! You can invite any friend you wish to become an Ozan SuperApp user by selecting them from your contacts as your friends must also have Ozan SuperApp to benefit from the split account feature. 
Invite them to the app to split the bill and let them enjoy the pleasure of being profitable and advantageous in digital finance! 
Is there a limit on Ozan SuperApp Account Splitting Feature?
The limit for the number of people for account splitting is 15. You can share a purchase you paid for with 15 friends with Ozan SuperApp and send requests. You can follow the informative texts defined in the application for amount limits and create a request for the account with the limit defined for each purchase.
You have a brand-new reason to take advantage of being an Ozan SuperApp user! After 24/7 money transfer, QR code payment feature, numerous cashback campaigns, digital service, and game payments, Ozan SuperApp is here for you with its account-splitting service! Download Ozan SuperApp now and start splitting your expenses!
Ozan SuperApp features, transaction limits, and campaigns may differ between countries.